Discover more from Indoor Vertical Farming Newsletter®
Stay informed with practical news, insightful data, and thorough analysis of the latest developments in indoor, vertical, and urban farming.
Over 8,000 subscribers
The 7th Annual AVF Summit & VertiFarm: A Conglomeration of Innovation Towards Sustainable Agriculture
From the 26th of September until the 28th, I travelled to Germany to assist to the 7th Annual AVF Summit & VertiFarm.
The 7th Annual VertiFarm Summit recently concluded, serving as a melting pot for ideas among 100 exhibitors from across the globe. The wide-ranging topics covered included automation, logistics, cosmetics, efficiency, research and development (R&D), and education. Controlled Environment Agriculture (CEA) was highlighted as a significant focus for the future by MESSE DORTMUND CEO.
Indoor Vertical Farming Newsletter® is a reader-supported publication. To receive new posts and support my work, consider becoming a free or paid subscriber.
In her keynote, Christine Zimmerman-Loessl, Chairwoman of AVF, emphasized creating a robust platform for the agricultural industry. Reflecting on the substantial financial support allocated to aid farmers, she stated, "Billions have been allocated to support farmers who have been struggling for decades." According to a study by Bayer, 71% of farmers are adversely affected by climate change, with rising fertilizer prices adding to the challenges. Christine underscored the potential of CEA, stating, "production is marginal for now, but the perspective is interesting" in combating climate change and an aging farmer population. She also stressed that "tech plays a pivotal role today" in controlling various parameters, though food waste remains a major issue to tackle.
Later on the Annual Vertical Farming summit had Dr. Karen Fabbri who elucidated the EU's Food 2030 strategy and the deployment framework in Horizon Europe 2021-2027. She highlighted the immense pressure on land and biological resources due to urban food consumption patterns, saying, "80% of food produced is consumed in urban areas, where three-quarters of the EU population live." She emphasized the need for innovations in indoor farming to enhance energy efficiency, optimize logistics, and increase biodiversity, introducing the concept of Industry 5.0 and asserting that "VF & CEA is part of Industry 5.0."
The key discussions at the 7th AVF Vertical Farming Summit 2023 revolve around three central pillars: innovation, collaboration, and sustainability. The summit emphasizes the exploration of new technologies and methodologies, the fostering of partnerships among industry professionals, and the drive towards initiating substantial change to ensure a sustainable and equitable future in agriculture.
A Sense Of Where The Industry Stands
The indoor vertical farming sector is navigating through a financial storm, marked by a significant contraction in investments and a spike in bankruptcy filings among eminent entities. This financial hiccup, propelled by soaring operational expenses, technological snags, and the rivalry with conventional agriculture, has triggered a thorough reassessment of business blueprints, pushing towards more sustainable and economical models. This phase signifies a critical juncture of sector-wide contemplation and recalibration.
Adam Abadi of Cultivatd reflects a resilient outlook despite the financial hurdles, underscoring enduring interest in Controlled Environment Agriculture (CEA). He stated, "It's heartwarming to see the community come together, learning quickly from past mistakes," signifying a silver lining amid the challenges. The collective endeavor to learn from past missteps and foster new ventures paints an optimistic picture for the industry's trajectory.
Skytree's Camille Hanna echoes a similar spirit of innovation and global outreach, emphasizing sustainable practices in CO2 production. Hanna mentioned, "...the incentives from governments for sustainable, automated farming propel us forward," showcasing a proactive stance. The global vision, targeting regions like the Middle East alongside traditional markets, demonstrates a robust strategy poised to harness governmental incentives promoting sustainable, automated farming.
Dan Nielsen, spearheading strategy at Seasony, sheds light on the evolving dynamics, forecasting a significant role for retailers and food distributors. He articulated, "Some change will happen for sure; retailers and food distributors will take a more important place in the industry," resonating with the industry's adaptive temperament, urging entities to maintain a collaborative momentum on projects.
The 7th Annual VertiFarm Summit encapsulated this spirit of collaborative innovation, portraying a ready and receptive agri-tech sector. The summit underscored the collective resolve to embrace novel technologies to surmount impending challenges, carving a route towards a greener, efficient agricultural paradigm. This synthesis of insights and forward-thinking discussions at the summit manifests a sector ripe for collaborative advancements, steering towards a sustainable agricultural horizon.
A Visit Of A Strawberry Vertical Farm Near Dortmund
On the last day of VertiFarm, I had the chance to visit vGreens, a Strawberry vertical farm near Dortmund, with Vertical Farming Podcast host
& Adam Abadi, Business Development Manager of Cultivatd.
Strawberries grown in vertical farming systems result in a consistent, delicious yield with a fraction of the water and land resources required by traditional farming methods. Though many companies have tried to grow strawberries in vertical farming, few are yet to be profitable. Still, the work done in studying the various varieties suited for vertical farming and the continuous innovation in lighting systems opens a potentially profitable segment.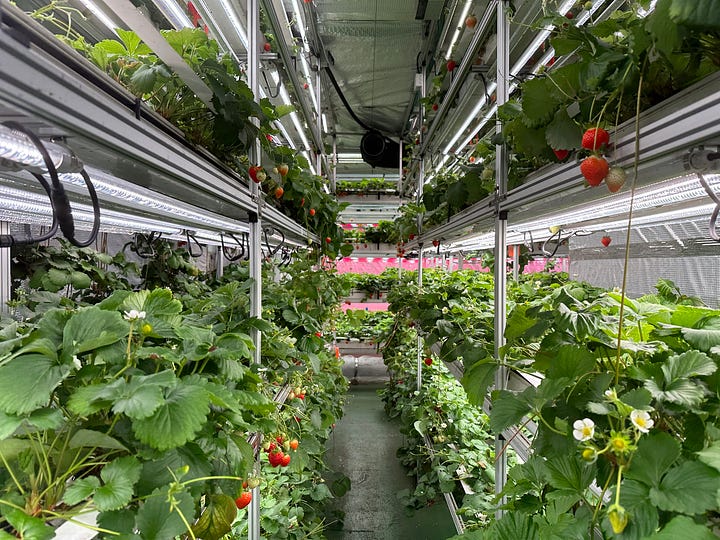 Special thanks to the team at vGreens for presenting the facility and their work!